Designer & Manufacturer of Perfume Bottle Packaging
What's The Main Factor Effecting The Price of Perfume Bottle Packaging?
1. The intitial factor effect the price of product is the raw material , some are raw material with formula, some are original, some are processed before production, it depends on the different kinds of material.
2. Different facility for production have big difference on the cost, glass bottle for example, most of the glass factory use natural gas as the fuel of furnace for environmenta protection purpose. Some individuals factory use electrical technology to heat the furance because of cheaper electricity cost in North of China. The main resource for perfume cap factory is the electricity.
3. Production technology - it's the main factor in the perfume packaging manfuacturer and finishing process, it determined the quality level of the perfume packaging to match up different level perfume. Each type of product has different production technology to control the quality and charactics of it.
4. The remaining 10% factor including in the labor cost, empolyee profit, warehousing, quality control, transportation, enviromental protection, management etc.
5. Why the price is getting down when the order quantity is higher? When we start the production, the first stage is to intall the molds on the bottle machine, it takes around 8 hours for mold installation, temperature raising, weight control etc. In the intitial 30 minutes-60 minutes of production, over 95% quantity of bottles are rejected (appr.5,000 pcs). After 1-3 hours production, the quality of bottle will acheive a stable conditions, over 90% bottles are acceptable, it has a low wastage rate. That's why we require MOQ and you will get lower price with big quanitity. The perfume cap manufacturer has a similar procedure for the quantity.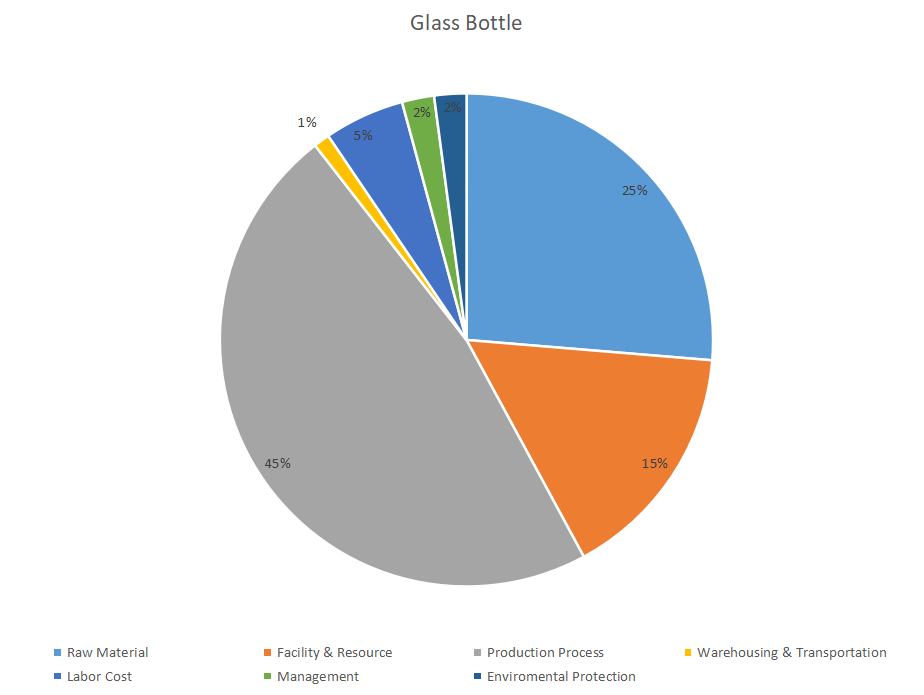 The cost breakdown at percentage of different item
Product

Raw Material

Warehouse &

Transportation

Labor Cost

Management

Glass Bottle

25%

15%

45%

1%

5%

2%

2%

Zamac Cap

20%

10%

60%

1%

5%

2%

2%

Plastic Cap

50%

10%

30%

1%

5%

2%

2%

Pump Sprayer

40%

10%

40%

1%

5%

2%

2%

Glass Vial

30%

20%

40%

1%

5%

2%

2%
Consult GP Bottles@ Let's Create It Together
GP Bottles is not only manufacturing perfume bottles, but is designing perfume bottle to comply with the orientation and culture of your perfume brand, and we're considering "Elevate Scores Of Your Perfume Brand" as our mission, consult us now to create together.